"Coffee falls into the stomach ... ideas begin to move, things remembered arrive at full gallop ... the shafts of wit start up like sharp-shooters, similes arise, the paper is covered with ink..." - Honore de Balzac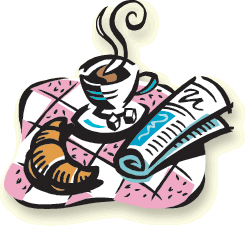 Imagine…fresh roasted coffee made from the world's finest Arabica beans, shipped to your home or office later that day or the next. And when we say fresh roasted, we don't mean roasted last month and stored in a warehouse until your order is received.
Large roasting companies can't roast to order because of the huge quantities they sell. Typically, our coffee is personally roasted by Coffee Express owners hours after receiving the order and shipped the next day.
Because freshness and quality are synonymous with good coffee, we roast using only the highest quality green Arabica beans available. While availability is determined by political, environmental and natural conditions, supply has never been a problem since we formed Coffee Express in 1992.
We always obtain our beans from the country in which they are grown; presently we import from 15 different countries and offer 56 varieties of coffee, including rare coffees like Jamaican Blue Mountain and Hawaii's Royal Kona. Special blends include those beans originating from Africa (Ethiopian, Zimbabwe, Kenya AA) and Columbian Supremo.
The "star" of Coffee Express is our 12-kilo roaster purchased from Diedrich Roasters of Idaho. Our 900 lb. beauty roasts 25 lbs. of coffee within 15-17 minutes, depending upon the bean. Temperatures reach 450 degrees while roasting, ensuring the full-flavor potential and succinct attribute balance of each bean before packaging.
And for those of you wanting to limit your caffeine, no chemicals are used in our decaffeinated roasting process-all our decaf coffees are pure, clean 100% Swiss Water Processed.
Great coffee doesn't just happen, its a process. At Coffee Express, great coffee is what we do-one bean at a time.
Thanks for your interest in Coffee Express and remember: life is too short to settle for a bad cup of coffee!
Norma Allman & Marilyn Burchett, Proprietors, Coffee Express, Inc.